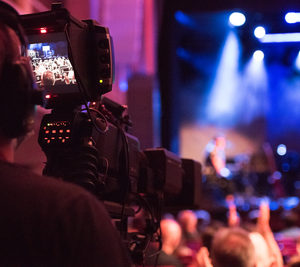 StreConFlex. celebrates premiere of the ultra low latency concert streaming brand MUCKE with a hybrid benefit show for the reconstruction after the flood catastrophe in western germany in July 2021.
With the hybrid benefit show "Macht Stark!" the ultra low latency concert streaming brand MUCKE of format:c live communication GmbH celebrated its premiere on August 23, 2021.
A few weeks after the devastating flood disaster, direct help for the people in the affected regions is still urgently needed. Therefore, a hybrid show with 18 acts from the fields of music, comedy and cabaret was created, which (despite numerous Corona protection requirements) could be watched by spectators throughout Germany and beyond,. All entrance fees went 100% to those who were affected in the disaster areas. In addition to on-site tickets for the beautiful, old theatre, the "Volksbühne am Rudolfplatz" in Cologne, there was an unlimited number of tickets for the live stream. There, viewers could watch the show live with a broadcast delay of less than one second and with numerous interaction options. The online experience not only convinced with its elaborate film and sound production, but also with the stream's minimal latency.
The highlight of the ultra low latency streaming: Due to the latency of less than one second, the artist gets direct reactions of the viewers in real time and can react to them. For both artists and viewers, this direct communication option opens up the realization of the live experience, which goes far beyond watching a concert recording. Reactions of the audience are possible via emoji buttons with image and sound and are brought directly into the hall and onto the stage.
After the successful benefit show, the artists were enthusiastic: hip hop star Eko Fresh praised the high production value and called the concept "the future", musician Suzie, the voice of the band Klee, was convinced to have felt not only the people on site but also the "streaming energy".
54 professionals worked behind the scenes to make the show happen, and 8 cameras were used, including a dolly on a 4m track, a camera crane, a radio gimbal cam, and Marshall action cams on the instruments on stage. The stream of the four-hour live show reached viewers in 6 countries.
The possibility of integrating an unlimited number of online viewers into the concert event in real time, regardless of location, using images, 3D sound and emojis, offers great, as yet largely untapped potential, not only for hybrid or purely online streamed concerts. This technology has already proven its worth in shows for product presentations designed and realized by format:c live communication GmbH. With StreConFlex. the creative agency from Cologne in partnership with loud GmbH offers the perfect platform for all live streams, online events and hybrid events.