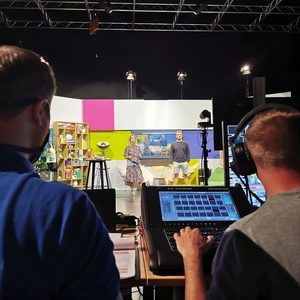 Latency or reaction time: This is the time period between an event and the occurrence of a visible reaction to it.
Anyone who has been involved in hybrid and online events in recent months has noticed that communication between onsite and online is often disrupted by delayed signals. Even if the quality of the Internet connection is sufficient, digital participants may lag 30-60 seconds behind what is happening onsite. This is mainly influenced by details of the technical implementation, for example of the devices used, the number of distribution nodes or the selected streaming service. Questions remain unanswered because the live program is already one step ahead, waiting times have to be bridged by the moderator, many gamifications simply do not work. For example, if there are emojis, with which you can react to a lecture, it makes sense for the presenter to receive this reaction directly and without delay, just as it is the case with his onsite audience.
The rule of thumb is simple: the shorter the delay, the more authentic and fluid the interaction. Only minimal latency can fullfill the growing expectations of hybrid and online event organizers and attendees.
In the meantime, there are streaming providers that manage a latency of less than one second. In a series of impulses the team of StreConFlex. will explain how this works, based on their ultra low latency live streaming all-in-one solution, and provide space for questions and discussion. In addition, Aron Below, Natalie Driesnack and Tobias Weber will shed light on topics such as good moderation, fitting content, inspiring formats, technical features, directing and camera training and much more.
The next impulses will take place on the following dates:
Impulse #3: Tuesday, 03.08.2021 from 11:00 a.m. to 11:30 a.m. CEST
Impulse #4: Tuesday, 03.08.2021 from 14:00 p.m. to 14:30 p.m. CEST
Click here for more info and free registration.
Here you find more information about StreConFlex.