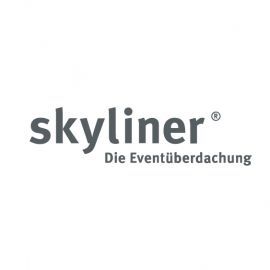 skyliner GmbH
Rathausplatz 1
D-53773 Hennef
Telefon: +49 (0)2242 917172
Telefax: +49 (0)2206 9516786
E-Mail: info@skyliner.tv
Internet: https://skyliner.tv
Skyliner – the event cover
Special challenges? No problem for skyliner, as can be seen in the implementation of the task in the pilgrimage town of Mariazell in Upper Styria. The small municipality of Mariazell with its widely known basilica and the nearby Bürgeralpe viewing plateau lies at an altitude of almost 1,300 metres.
From June to September 2020, a skyliner with a total membrane area of 22 metres provided sufficient space for visitors to the restaurant on the popular "Mariazeller Bürgeralpe" lookout mountain (buergeralpe.at) to rest and linger – as well as welcome protection against the high levels of sunshine and the sometimes capricious mountain weather. At the same time, the elegant event cover enabled continuous outdoor catering operations while complying with all applicable corona protection regulations.
The installation of the skyliner sl22 was particularly challenging not only because of the changing weather conditions with sometimes high wind speeds, but also because of the special, inaccessible location on the plateau: all the material had to be unloaded by the skyliner Austria team in advance at the foot of the viewing platform and shuttled to the installation site.
More examples of the use of event covers from skyliner here on the german website skyliner.tv. The English version will be added soon!