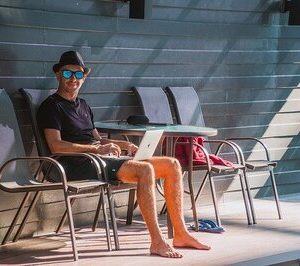 Workcation stands for a Work vacation. The idea is to pack up at home and reside in another country for a month or a few and do your remote work – most likely on a computer.
Using 22 different factors, the index compared 111 countries according to their remote working conditions and opportunities to really explore outside of a usual 9 – 5 routine. They then ranked these destinations based on six categories, such as how lively the social scene is or local costs of living. Due to the conflict, Russia and Ukraine were removed from the listing.
Categories were ranked by local costs encompassing apartment rental prices per month/day, transport, food & restaurant prices; health and safety, namely political stability, air pollution, LGBT equality, road safety; travel including accessibility, accommodation, car & fuel prices; remote work support such as remote work visas, co-working spaces, internet speeds; and social life English proficiency; culture; bars & clubs per capita.
1. Portugal 100%
2. Spain: 93%
3. Romania: 92%
4. Mauritius: 90%
5. Japan: 90%
6. Malta: 89%
7. Costa Rica: 86%
8. Panama: 85%
9. Czech Republic: 84%
10. Germany: 83%
11. Croatia: 82%
12. Iceland: 81%
13. Sri Lanka: 80%
14. Taiwan: 80%
15. Albania: 79%
16. Thailand: 79%
17. Georgia: 76%
18. Estonia: 75%
19. Mexico: 75%
20. Indonesia: 74%
21. Australia: 74%
22. Malaysia: 72%
23. Greece: 72%
24. Brazil: 71%
25. Luxembourg: 71%
26. Seychelles: 69%
27. Singapore: 69%
28. Dominica: 67%
29. Philippines: 67%
30. Norway: 67%
31. Lithuania: 66%
32. Bulgaria: 66%
33. Netherlands: 64%
34. Poland: 61%
35. Hungary: 61%
36. Curacao: 60%
37. Belgium: 59%
38. Denmark: 59%
39. Colombia: 58%
40. Latvia: 57%
41. United Arab Emirates: 57%
42. Serbia: 56%
43. France: 56%
44. Argentina: 56%
45. Chile: 55%
46. Honduras: 55%
47. El Salvador: 55%
48. Cape Verde: 55%
49. Barbados: 55%
50. Aruba: 55%
51. Sweden: 54%
52. Austria: 55%
53. Jamaica: 53%
54. Ecuador: 53%
55. Montenegro: 52%
56. New Zealand: 52%
57. United States of America: 52%
58. South Africa: 52%
59. North Macedonia: 51%
60. South Korea: 50%
61. Peru: 50%
62. Canada: 50%
63. Nepal: 50%
64. Turkey: 49%
65. Cyprus: 49%
66. Reunion: 49%
67. Vietnam: 49%
68. The Bahamas: 49%
69. Italy: 49%
70. Bolivia: 48%
71. United Kingdom: 48%
72. India: 47%
73. Finland: 46%
74. Kazakhstan: 45%
75. Guatemala: 45%
76. Dominican Republic: 43%
77. Kenya: 42%
78. Tanzania: 42%
79. Jordan: 42%
80. Armenia: 41%
81. Tunisia: 41%
82. China: 40%
83. Puerto Rico: 40%
84. Ireland: 39%
85. Switzerland: 39%
86. Kuwait: 39%
87. Bangladesh: 37%
88. Anguilla: 36%
89. Algeria: 34%
90. Morocco: 32%
91. Pakistan: 32%
92. Nigeria: 31%
93. Uzbekistan: 31%
94. Oman: 30%
95. Hong Kong: 29%
96. Belize: 28%
97. Senegal: 28%
98. Egypt: 28%
99. Israel: 26%
100. Qatar: 26%
101. Cayman Islands: 24%
102. Saudi Arabia: 23%
103. Zimbabwe: 22%
104. Antigua & Barbuda: 22%
105. Lebanon: 18%
106. Bermuda: 12%
107. Maldives: 7%
108. US Virgin Islands: 1%
Source: eTN / Image: Pixabay